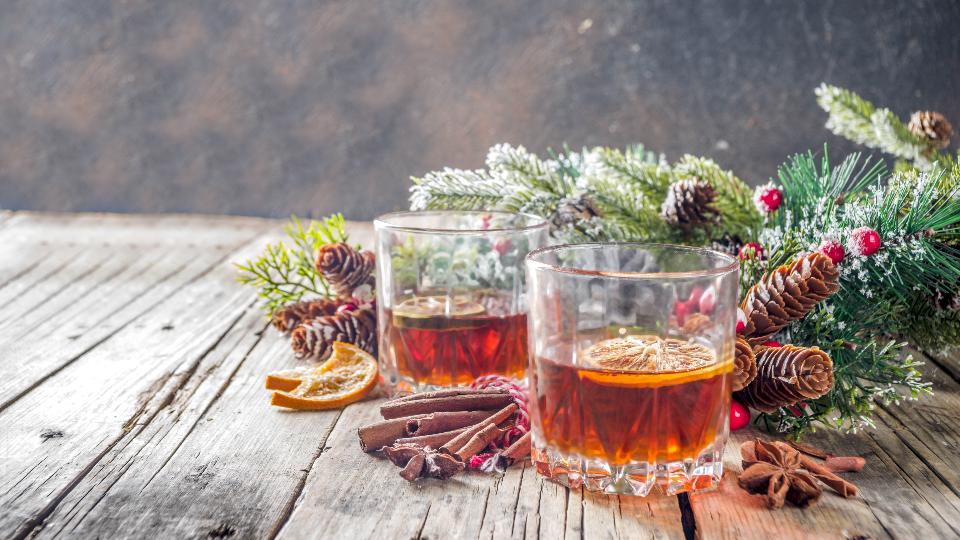 Christmas Cocktails
November 13, 2023
Welcome to the most wonderful time of the year! As the holiday season approaches, there's no better way to celebrate than with festive cocktails that will elevate your party to the next level. Whether you prefer something bubbly, fruity, or with a hint of spice, we've got you covered with our carefully curated list of six original cocktails. From the refreshing Mistletoe Mimosa to the indulgent White Christmas Margarita, these recipes will impress your guests and spread the holiday cheer.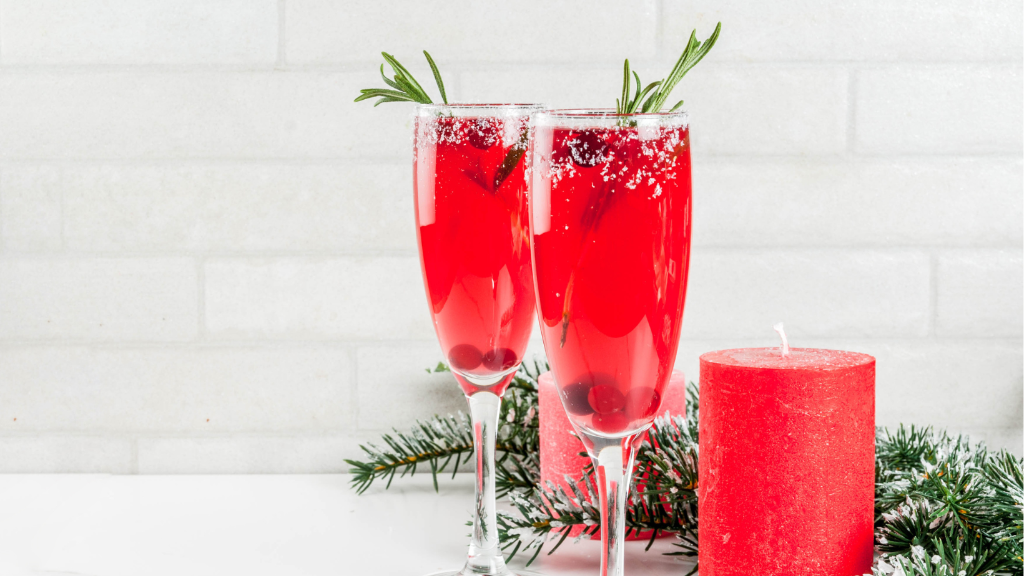 Mistletoe Mimosa
A refreshing, bubbly drink perfect for the holiday brunch or even with the main course at dinner. View the original recipe here.
Ingredients

1 bottle of Champagne
1 bottle of Cranberry Juice (We recommend trying Co-op Gold Cranberry Juice, available at Otter Co-op Food Stores)
1 Ice Cube Tray
Cranberries
Rosemary Sprigs
Directions
Add cranberries and a half rosemary sprig to an ice cube tray and fill with water. Once completely frozen, add ice cubes to a glass topped with champagne and cranberry juice.



Coconut Christmas Mojito
It's a fun take on the traditional cocktail. View the original recipe here.
Ingredients

Mint Leaves
½ oz Simple Syrup
1 oz White Rum
1 oz Coconut Rum
1 ½ oz Coconut Milk
Directions
Muddle the mint leaves with simple syrup and lime juice in a cocktail shaker. Make sure to save some of the mint for a garnish. Add ice, both rum and coconut milk. Shake for about sixty seconds. Strain over a glass filled with ice. Top with mint leaves for a garnish.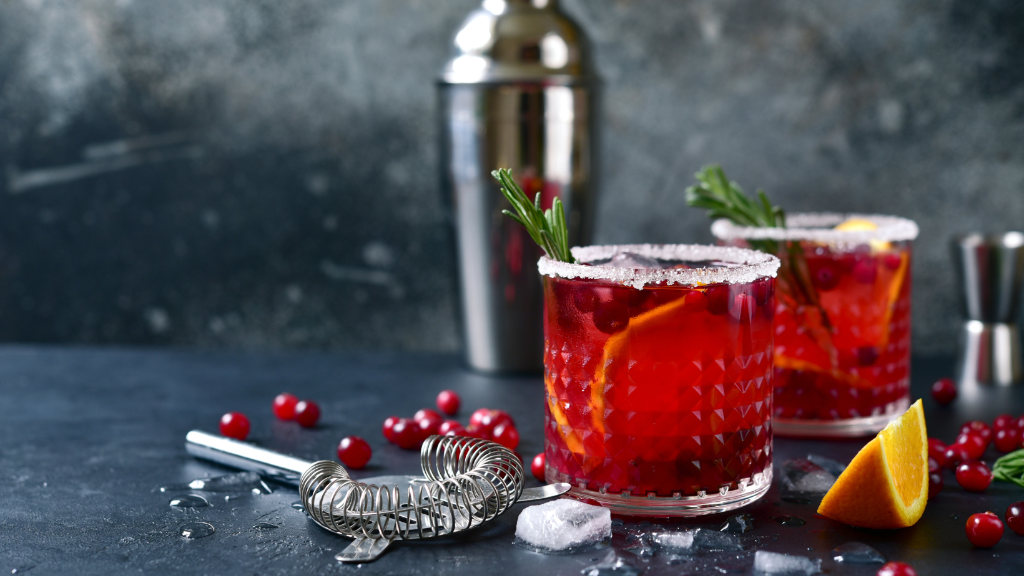 Cranberry Gin Fizz
We're bringing cranberries back for another cocktail because if it's good enough to go on the turkey, it is good enough to find a way onto your dinner table twice. View the original recipe here.

Ingredients
2 oz Gin
2 oz Cranberry Juice
½ Orange Juice
½ oz Lemon Juice
¼ oz of Simple Syrup
Orange Bitters
Optional: Cranberries and Orange Slices
Directions
Add all ingredients into a shaker filled with ice. Only add a few bitters, according to your preference. Shake until combined and chilled. Add to a glass filled with ice. Optionally, top with your garnish.

Peppermint Martini
It is a festive spin on the classic cocktail that's so good even Mrs. Claus would approve. View the original recipe here.
Ingredients

Candy Canes
Vanilla Frosting
1 1/2 oz White Chocolate Liqueur
1 1/2 oz of Cream Liqueur (or you can substitute for cream)
1 oz Vodka
2 drops Peppermint Extract
Directions
Crush the candy canes. Line a martini glass with frosting, then the candy cane pieces. Add the ingredients to a shaker filled with ice—and strain into the martini glass.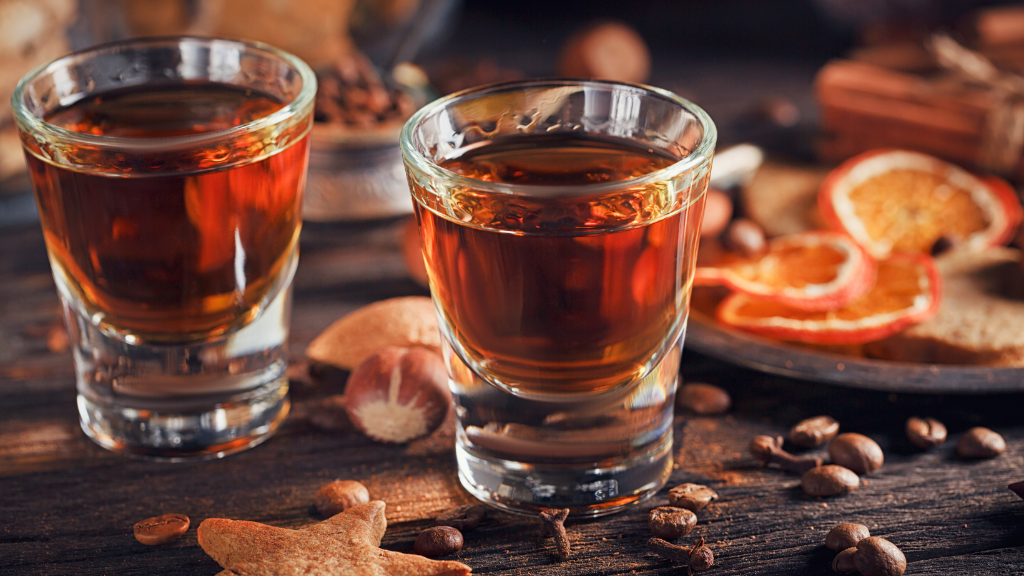 Cranberry Whisky Ginger
A festive spin on the classic cocktail that's sure to be suitable for any holiday party. View the original recipe here.
Ingredients
2 oz Whiskey (We recommend trying Bourbon)
1 Lime Wedge
Cranberry Ginger Ale
Optional: Cranberries
Directions
Fill a whisky glass or coupe with a bit of ice. Squeeze in the lime juice and top with the desired cranberry ginger ale. Optionally, you could freeze cranberries into the ice for a festive spin.

White Christmas Margarita
Feel free to multiply this recipe by how many rinks you plan on making to save time blending! View the original recipe here.
Ingredients
Sugar or Salt
Lime Juice
2 oz Tequila
1 oz Orange Liqueur
2 oz Coconut Milk
1 oz Lime Juice
Ice
Optional: Cranberries
Directions
Rim the glass with lime juice and sugar or salt, depending on your preference. Set aside. Add all ingredients to a blender. Use your discretion with the ice depending on your blender's power and desired consistency. Pour into your glass and, optionally, garnish to your liking.
But the fun doesn't stop here - we want to see your creativity in action! Share your own delightful concoctions with us on Facebook or Instagram. Let's make this holiday season a truly spirited one together.
Cheers to good times and great drinks!
Discover more: