Thanksgiving Wine Recommendations
Actions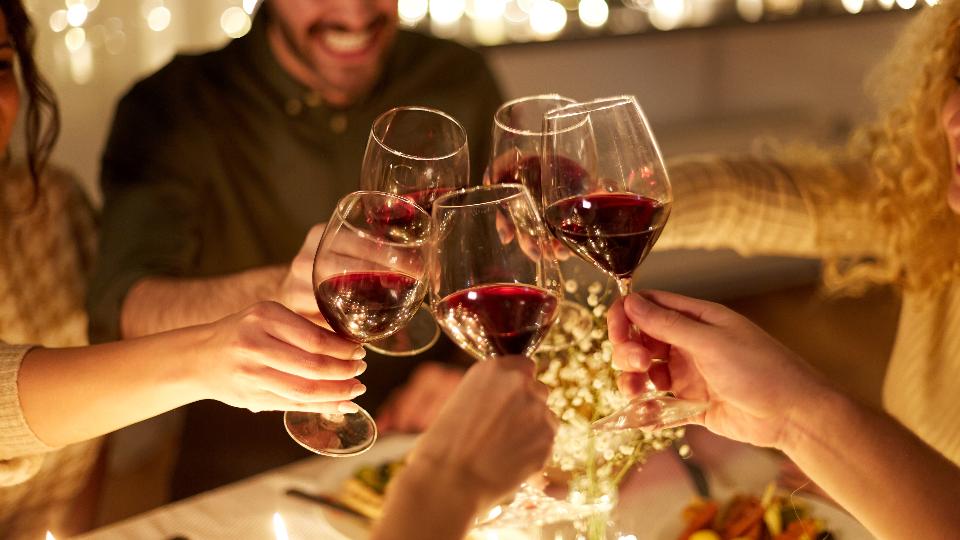 Thanksgiving Wine Recommendations
September 6, 2023
As the leaves begin to turn colour and it starts getting colder, it can only mean one thing—Thanksgiving is just around the corner—a time for family gatherings, celebrations, and delicious eats. But let's not forget the essential companion to your family dinner: the perfect wine! Whether you are a seasoned wine enthusiast or just looking for something tasty, everyone will like, finding the right bottle can be daunting.
But no worries, that is what we're here for! In this guide, our in-house sommeliers will offer the ultimate wine recommendations, curated to match your family dinner best and elevate your Thanksgiving to a whole new level. So, whether you're throwing a small get-together or a grand feast, let's dive into some local and international wine picks to complete your Thanksgiving spread.
Here's to a season of Thanksgiving: good food and even better wine! Cheers!
White Wine Recommendations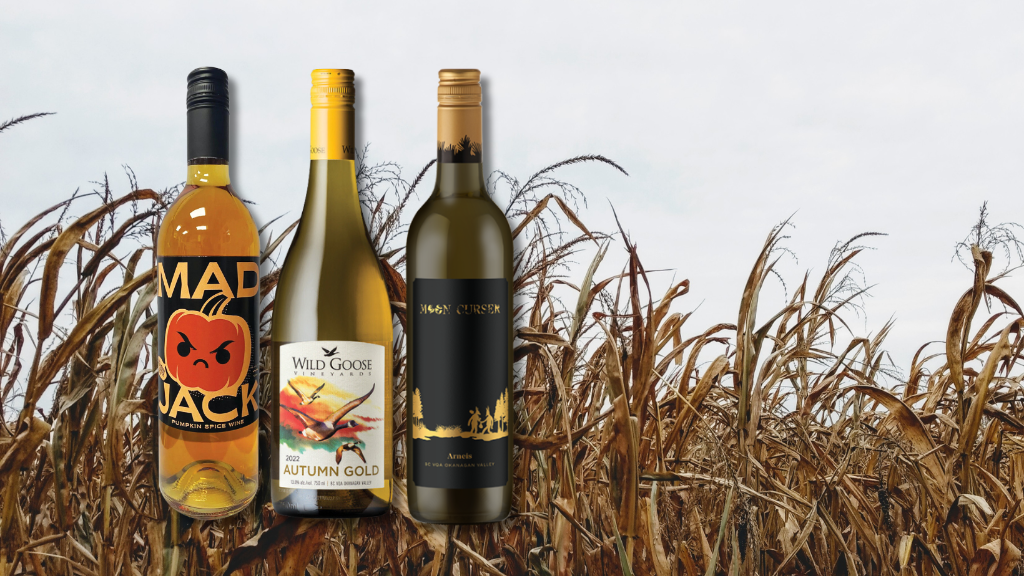 First, we believe there is no better wine to celebrate Fall than Maan Farm's Mad Jack Pumpkin Spice Wine. Locally made in Abbotsford, this wine is perfect to serve as an aperitif or with dessert. It has notes of fall spices like cardamom, nutmeg, and cinnamon and is easily paired with pumpkin pie! It is a great wine to please everyone at the table with the touch of sweetness it has. Even non-wine drinkers will enjoy it!
The best part is it is on the shelf for under $20.00. Plus, this fall season, starting September 15th, with the purchase of a bottle, you can enter to win tickets to their popular Haunted Maze in some of our Fraser Valley locations. Not to worry if you are not from the lower mainland; you can visit some of our Okanagan locations to enter to win a gift basket full of Maan Farm's preserves and seasonal goodies.
We also recommend Wild Goose's Autumn Gold if you are looking for a more traditional wine with your turkey dinner that can please the whole table. It is one of our most popular white blends made in Okanagan Falls. Autumn Gold is equal parts Riesling, Gewurztraminer, and Pinot Blanc and carries aromas of orchard fruit, apricot, and anise. Your palate will taste spice, candied ginger, and a hint of rose. Not only will it go great with turkey and all the fixings, but it also is great with honey ham.
Moon Curser's Arneis is the perfect match if you take a less traditional approach to your Thanksgiving dinner. This rare white grape variety is grown in the Okanagan but originates in the Piedmont region of Italy. As it shines in the sandy soils of the Okanagan, Moon Curser is the only producer of Arneis in Canada. This medium-bodied wine contains flavours of kiwi, grapefruit, and mineral flavours that pair well with garlicky seafood and roasted vegetables.
Red Wine Recommendations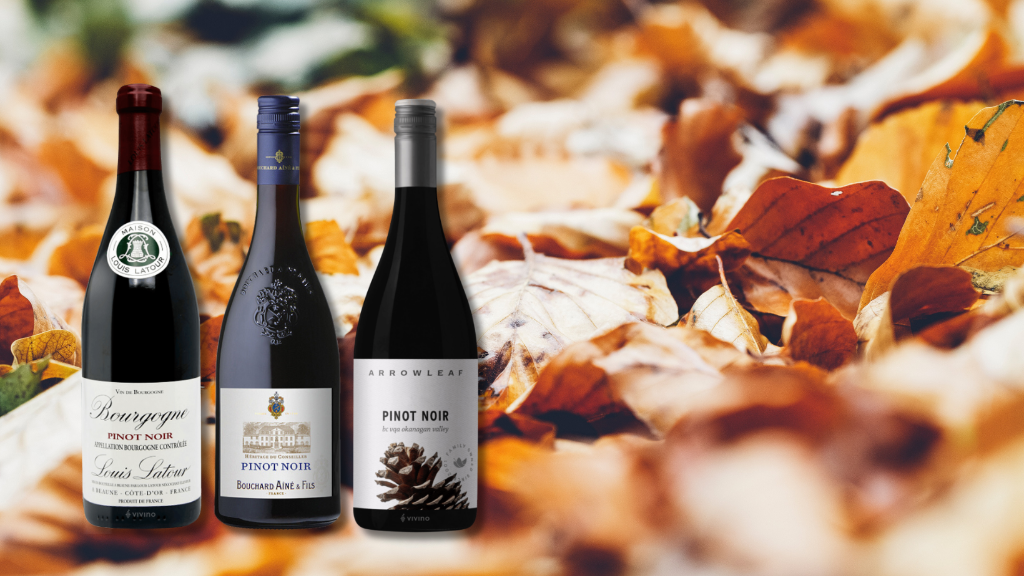 The classic wine pairing for the classic Thanksgiving dinner is Pinot Noir. Arguably the most recommended wine pairing with a classic Thanksgiving dinner of turkey, stuffy, mashed potatoes, yam, green beans, and cranberry sauce. Typically, French Pinot Noir perfectly balances its sweet berry notes and its savoury elements of herbs like rosemary and thyme with hints of "earthiness" like mushrooms. The light body of Pinot Noir doesn't compete with the subtle characteristics of turkey.
Angry Otter offers several French Pinot Noirs at all our locations to fit anyone's budget. Nothing hits quite like a Burgundian Pinot Noir such as Louis Latour Bourgogne Pinot Noir. This world-renowned wine contains a round, fresh palate that offers cherry notes for a soft finish.
Or, if you are looking for something more budget-friendly, consider Bouchard Aine Pays D'Oc Pinot Noir. With hearty notes of jammy fruits, spices and herbs, this wine has a long-lasting vanilla finish that makes a great companion for the entire meal.
Wanting to try something local? Make sure to pick up Arrowleaf's Pinot Noir, a rich, full-flavoured Pinot Noir grown in Lake Country. With flavours of raspberry, dark cherry, cedar, and rose aromas combined with the subtle notes of leather and earth, it has a rich texture and smooth finish that pairs perfectly with duck, turkey, chicken or pork, as well as fall vegetables like squash or pumpkin.
Rosé Recommendations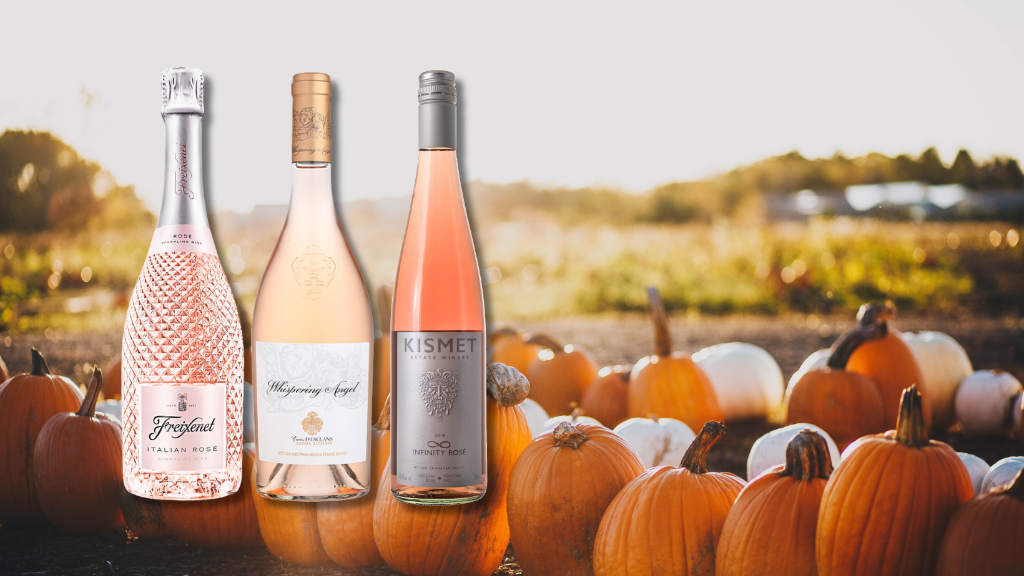 Our favourite rosés to enjoy this Thanksgiving are d'Esclans Whispering Angel Provence Rosé. It has a fresh red berry fruit characteristics with floral notes on the palate with a smooth, round finish that will not take away from your incredible cooking. Make sure to stock up while it's $4 off for September!
Or try Freixenent Veneto Italian Rosé, also on special in September. This Spanish bubbly blend is light and effervescent with notes of fresh red berries and hints of crisp apples. It pairs well with seafood or savoury appetizers if you are looking for something to sip on before dinner.
Looking for something to take you to dinner? Kismet's Infinity Rosé is a great local choice from the Okanagan that bleeds together Cabernet Sauvignon, Merlot, Cabernet Franc, Petit Verdot, Malbec, Syrah, Mourvèdre, and Grenache grape varieties. This finished wine is balanced with a ripe raspberry aroma followed by strawberry flavours. It is a great addition to creamier pastas or curries.
Make sure to let us know what you pair your Thanksgiving dinner with on Instagram or Facebook!
Discover more: