12 Days Of Exclusives at Angry Otter Liquor
Actions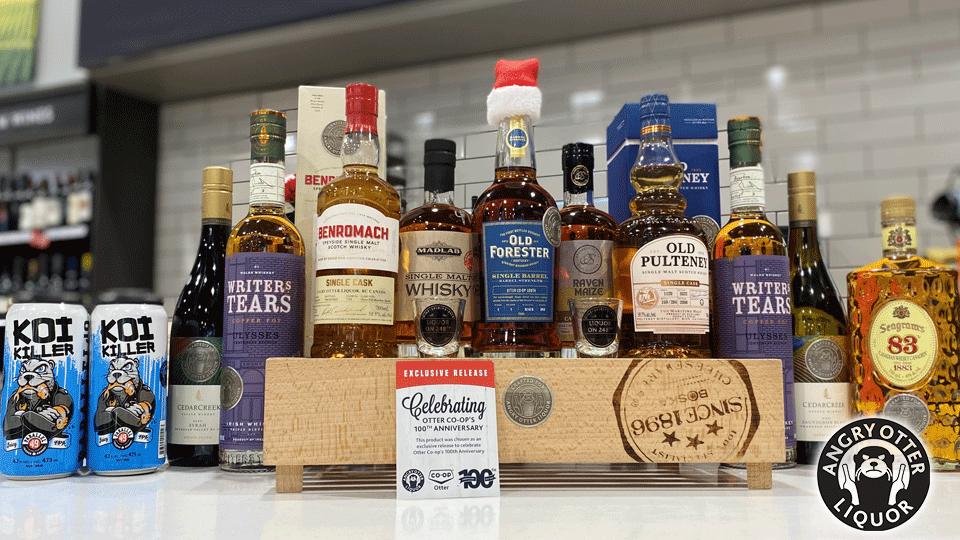 12 Days Of Exclusives at Angry Otter Liquor
December 1, 2022
Angry Otter Liquor is excited to celebrate Otter Co-op's 100th Anniversary. You're in some pretty exclusive company when you hit this milestone so we're celebrating with some exclusives of our own.
Introducing the 12 Days Of Exclusives – a collection of products, exclusive to Angry Otter Liquor locations that have been chosen to celebrate Otter Co-op's 100th Anniversary.
Check back here everyday for a new featured exclusive you can add to your list just in time for the holiday season.
Benromach Single Cask 1st Fill Bourbon Barrel No.73
December 1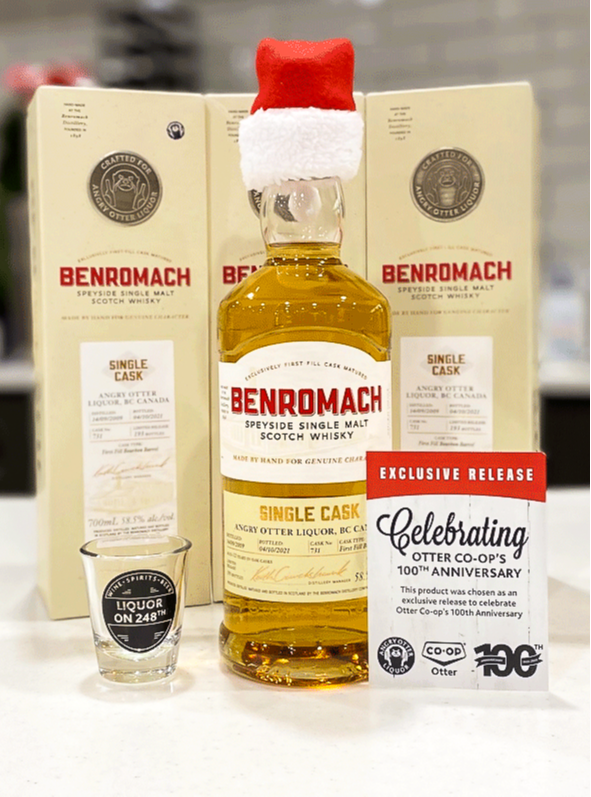 Benromach Distillery lies on the outskirts of Forres in the Speyside region of Scotland, this exquisite 12 Y/O Benromach single cask was selected as part of the special release from Angry Otter Liquor to celebrate Otter Co-op's 100th anniversary. This wonderfully complex whisky was distilled in 2009 and bottled in 2020, matured in first fill bourbon casks with hints of honey, dark chocolate, with intense vanilla in the background. Cayenne pepper spice arises before some old, tannic oak comes through, with a burst of pepper and wood smoke on the finish.
Distilled: 2009 Bottled: 2020
Mad Laboratory Single Malt Whisky
December 2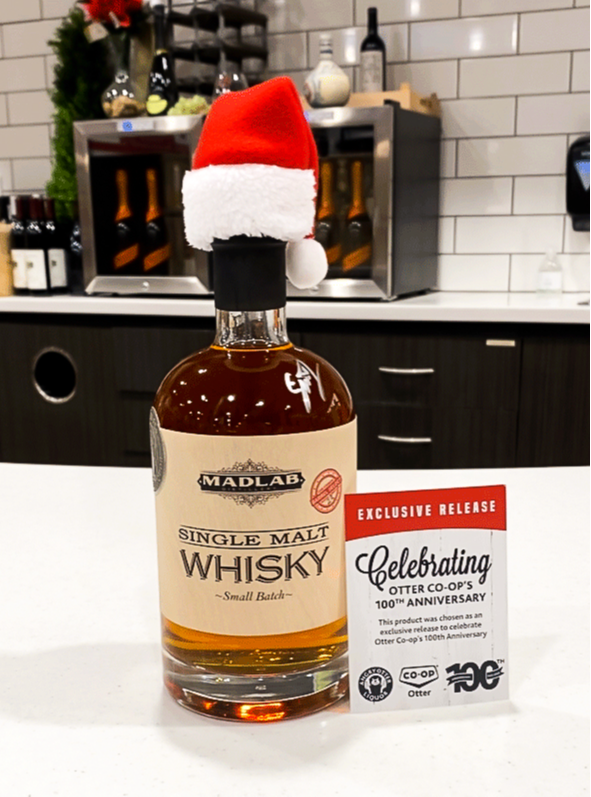 Hand picked by Angry Otter Liquor to celebrate the 100th Anniversary of Otter Co-op, this amazing barrel stands out amongst the pack of casks sampled. You'll notice hints of brown sugar, dark chocolate, burnt orange, cinnamon, nutmeg, tobacco and a beautiful lingering, leathery finish.
Seagram's 83 Canadian Whisky
December 3rd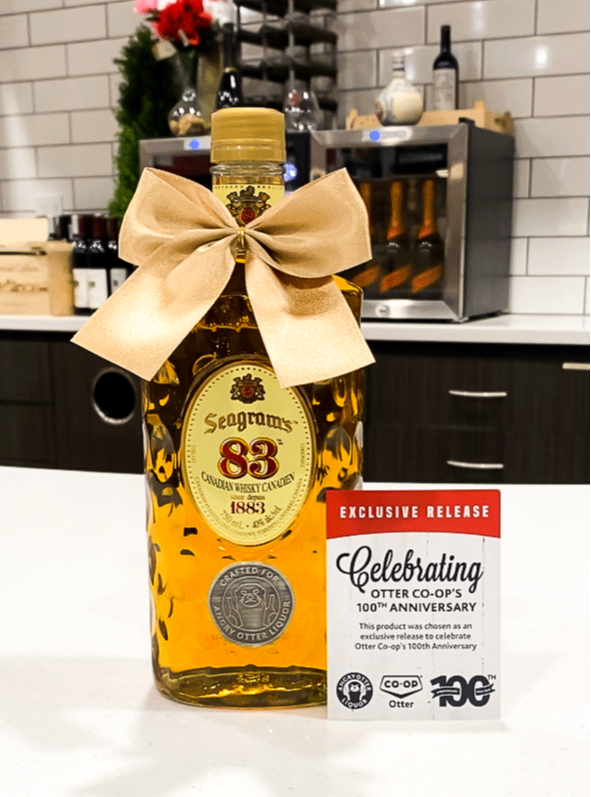 Selected as an Exclusive for Angry Otter Liquor, this whisky is made in honour of the original Seagram's and pours a golden amber colour; the nose is subtle in style with hints of maple syrup and vanilla. The palate is soft and easy-drinking; ideal for cocktails.
Writers Tears Copper Pot Ulysses Irish Whisky
December 4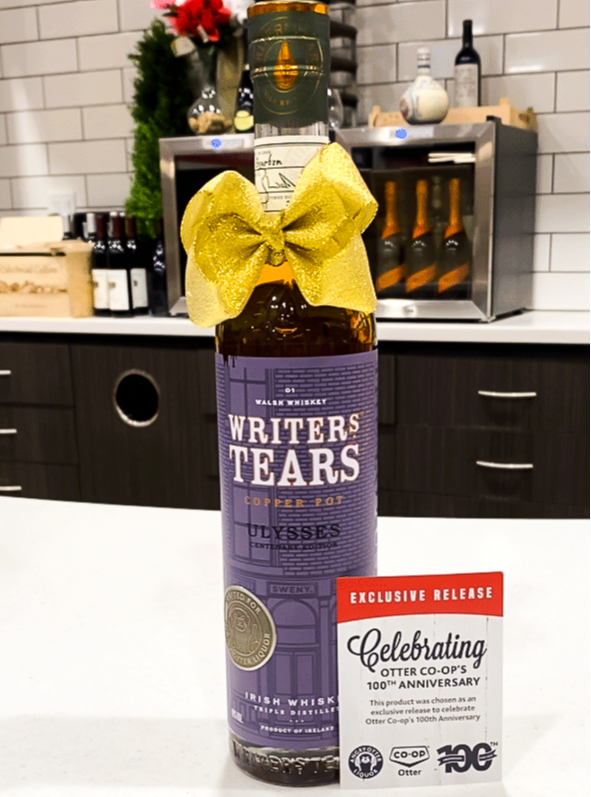 Announcing the release of the special bottling, Bernard Walsh, creator of Writers' Tears and Managing Director of Walsh Whiskey, said: "Celebrating Ireland's literary greats has always been at the core of Writers' Tears and there is none greater than James Joyce. We are delighted to play our part in supporting Joyce's legacy through Sweny's Pharmacy, which is a piece of perfectly preserved living history from Joyce's Victorian Dublin."

Joyce's epic novel Ulysses is about regular people going about their lives on a single day in Dublin – 16th June, 1904. The novel is celebrated on the same historic date every year. The day is known as 'Bloomsday', after the main character, Leopold Bloom, and Joycean enthusiasts dress in Victorian attire and visit venues that feature in the novel all across Dublin.

Only a handful of cases were shipping to BC and all were selected as part of Angry Otter celebrating Otter Co-op's 100th Anniversary.
Old Forester Single Barrel Whisky – Otter Co-op 100th Edition
December 5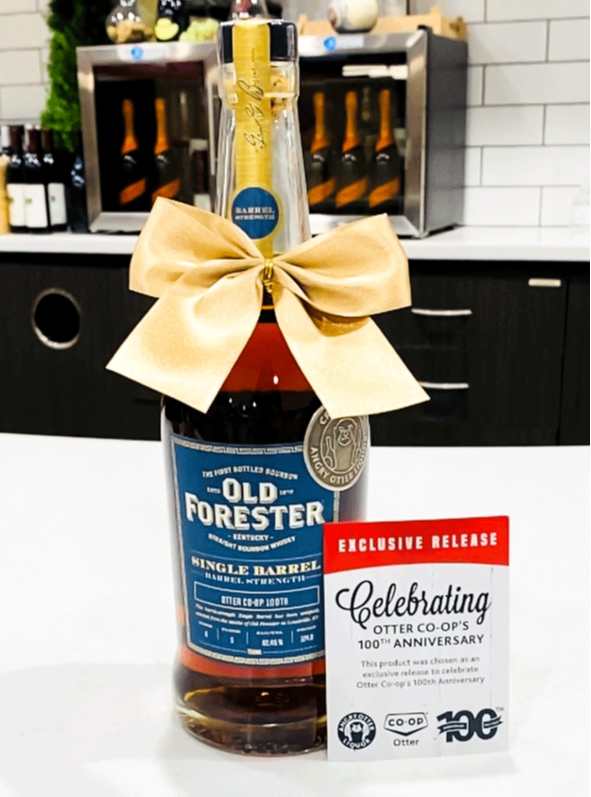 This cask was selected by Angry Otter to celebrate the 100th Anniversary of Otter Co-op. Every fingerprint is unique; the same is true for every bourbon barrel. Old Forester Single Barrel is from one individual barrel, so there is no other exactly like it. At 124.9 Proof (or 62.45%ABV) this rich, robust profile, Single Barrel offers a one-of-a-kind experience.
This whiskey has huge caramelized banana notes, dried apple chips, citrus peel, and vanilla on the nose with a prominent taste of caramel and vanilla. Additionally, there's plenty of earthy notes such as rosemary, thyme, citrus, roasted grains, oak, and cinnamon on the pallet.
Old Pulteney Whisky
December 6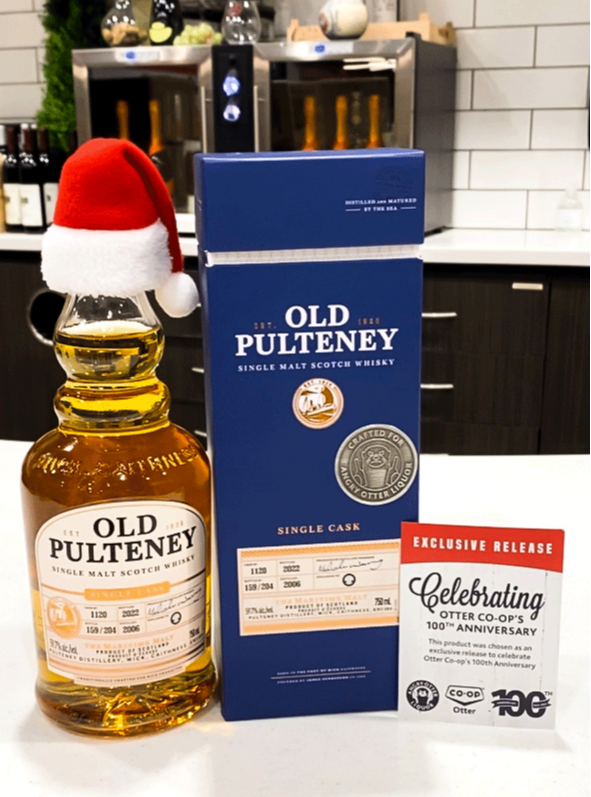 This beautiful and complex 16 year old cask was chosen to take part of the Otter Co-op 100th Anniversary special release done by Angry Otter Liquor, with hints of yellow apples, oranges, peaches, honeycomb, and generous vanilla custard on the nose.

It also features sweet citrus fruits, creamy vanilla, peppery notes, and ginger brown sugar sweetness underneath; then some nutty notes, salty water toffee and a light layering of chocolate in the distance on the pallet - one of a kind to get this season!
Parallel 49 – Koi Killer
December 7
Named after the otter famed for eating the koi fish at the Dr. Sun Yat-Sen Classical Chinese Garden in Vancouver, our Koi Killer is just as angry! This collaboration with Parallel 49 has intense notes of citrus and a haziness that will fail to disappoint. The hoppy-bitterness on the finish is balanced by notes of orange peel and a light malt that IPA and Belgian-style fans will be sure to love!
CedarCreek Sauvignon Blanc
December 8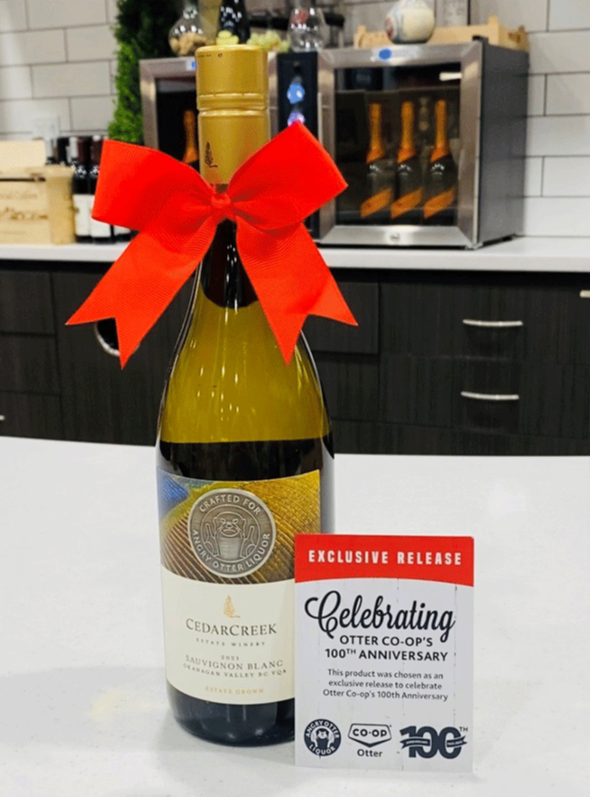 The southern Okanagan has an herbal quality to the air at the height of growing season – sage and antelope brush warmed by the sun. So maybe it's not surprising that there's a tell-tale grassiness to this herbaceous-by-nature Sauvignon Blanc by CedarCreek Estate Winery, an Angry Otter Liquor exclusive chosen to celebrate Otter Co-op's 100th Anniversary. Grapes famously hold a mirror to their surroundings; the fruit is picked early to retain the bright, fresh acidity that shows through on the palate. In the winery, they do several co-inoculations using two yeasts with the intent to drive thiol production in the direction of a Marlborough-style Sauvignon Blanc. Lime and lemongrass are the main attraction, with subtle green cooking herbs and an electric acidity. Bone dry with, of course, just a little South Okanagan on the nose. This wine is excellent with lemon herb chicken, shellfish, and cream pasta dishes.
Raven Maize Canadian Whisky
December 9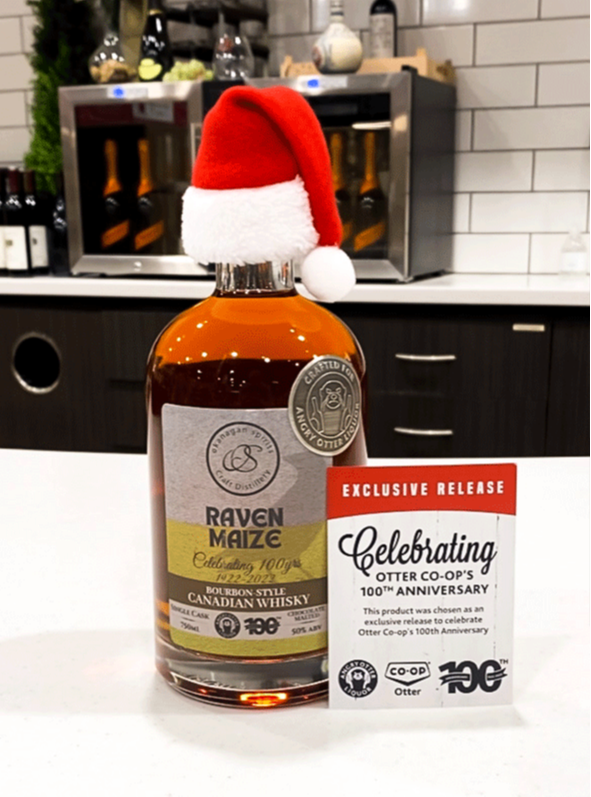 Selected as one of the staples for Otter Co-op's 100th Anniversary Exclusives released by Angry Otter Liquor, this single cask chocolate malted corn whisky was produced with corn that was purchased at Otter Co-op's Feed department and transported to Vernon where the distillery is located.

"Cask Strength Chocolate-Malted Bourbon-Style Whisky Raven's Maize starts its journey in our local North-Okanagan fields, where our Barley and Grain-corn thrive. After harvest, the barley is dark (Chocolate) malted before being blended with our grain-corn in the mash-tun. Once the fermentation of the mash is complete, our whisky is double-distilled on-site in our state-of-the-art copper-pot stills before being laid down in our custom toasted virgin use white-oak casks for 4 years. This silky-smooth, cask-strength expression delights the palate with wave-upon-wave of rich caramel and vanilla complimented with decadent layers of cacao, cherry, and toasted oak. Curl up in front of the fire this season and let your senses experience the exceptional. Bottled at 54% (cask strength). For lovers of Fortified Whisky, this truly is indulgence at its finest!"

CedarCreek Syrah
December 10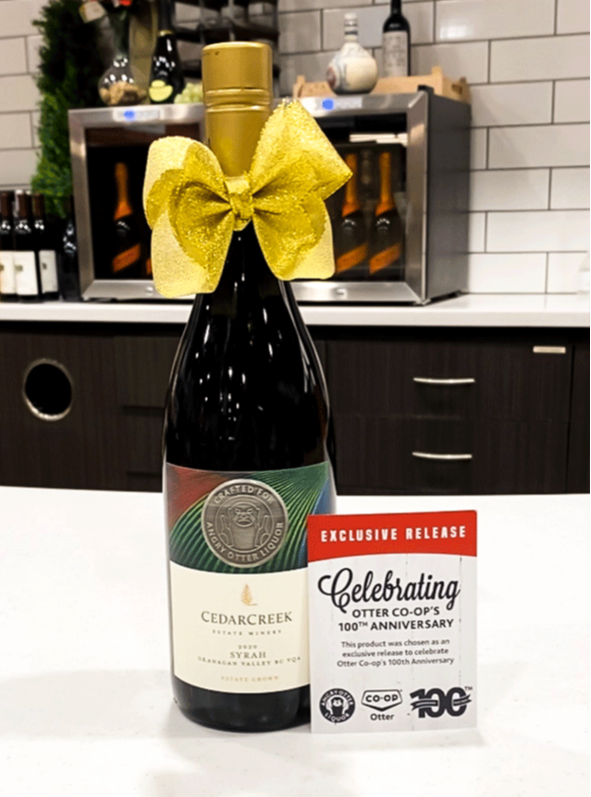 This Syrah by CedarCreek Estate Winery is an Angry Otter Liquor exclusive chosen to celebrate Otter Co-op's 100th Anniversary. The Syrah that grows at their southern Okanagan vineyards is situated on unique south-west facing slopes. At midday in summer the heat is powerful, but Syrah likes that; the terroir evokes its Rhone Valley origins. The wine is structured and balanced with delicate tannins and spice – the direct result of a decision to plant it where it feels right at home. Stewed plum with blackberry on the nose, followed by currant and some earthiness on the palate. A perfect wine to pair with mushroom dishes & lamb.

Galeam Alicante Organic Monastrell
December 11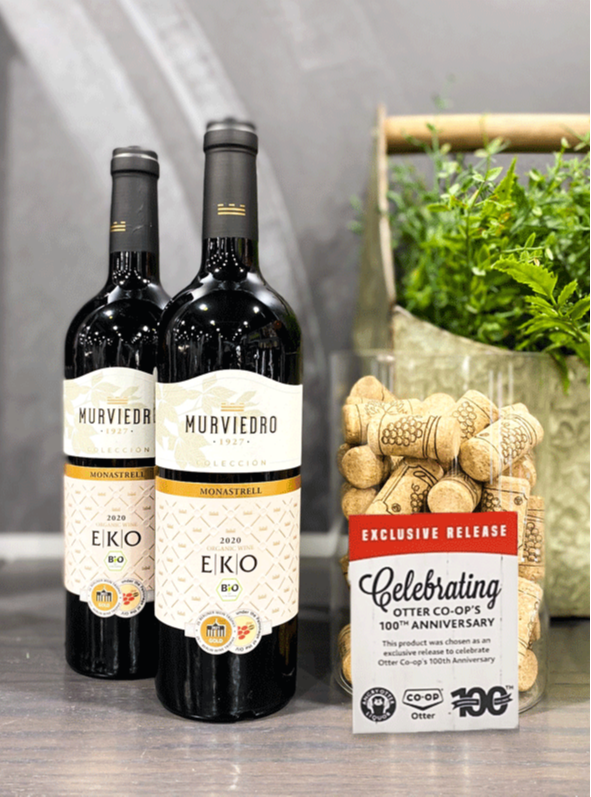 Medium bodied Monastrell from Spain. A little more complexity in this wine with chocolate and vanilla notes with dark ripe black berry and currant fruit. Smooth tannins make this wine approachable and easy drinking. The chocolatey notes make this wine cozy and easy to sip with friends on a cold night or pair with beef, lamb, or game meets. This wine would also be great with tomato-based pasta dishes.
Angry Otter Community White & Community Red Wines
December 12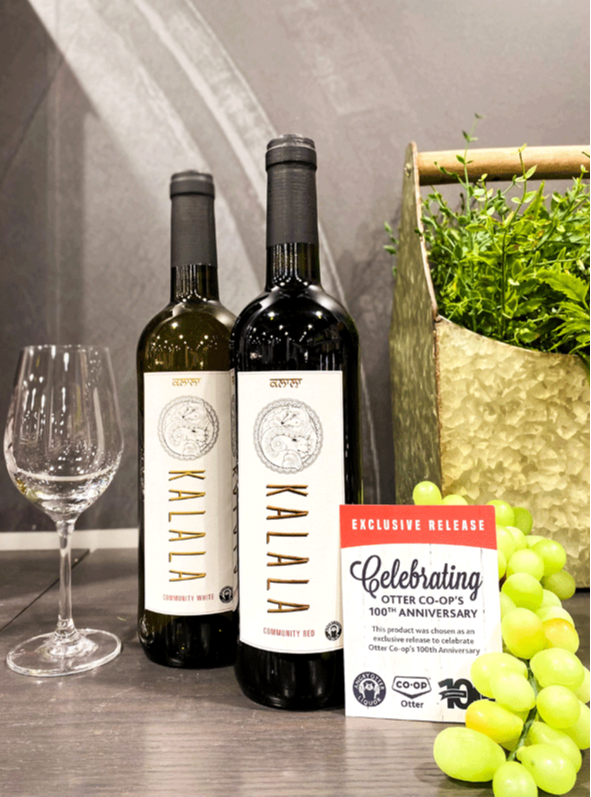 These Community White and Community Red wines by Kalala are exclusively made for Angry Otter Liquor, and chosen the celebrate Otter Co-op's 100th Anniversary!
Angry Otter Community White is made from 100% organic grapes. This easy drinking wine is a blend of Pinot Gris, Riesling, Gewürztraminer, and Auxerrois. The wine delivers enticing aromas of zippy green apple, pear and key lime. Light and refreshing on the palate with just a touch of sweetness. Enjoy this with mild cheeses, vegetable dishes, fish and chips or spicy fare.
Angry Otter Community Red wine is made from certified organic grapes and is a blend of Merlot, Zwiegelt, & Pinot Noir. On the nose you will find aromas of juicy red Okanagan cherries, raspberries, and spice. This is an easy drinking, fresh red wine with mild tannins. Try with Mediterranean fare, and hard cheeses.

Limited quantities available for all "12 Days of Exclusives" products. Please call your closest Angry Otter Liquor location for availability.
There are no featured stories at this time.